Your Chevy SUV Guide: An Option for Every Driver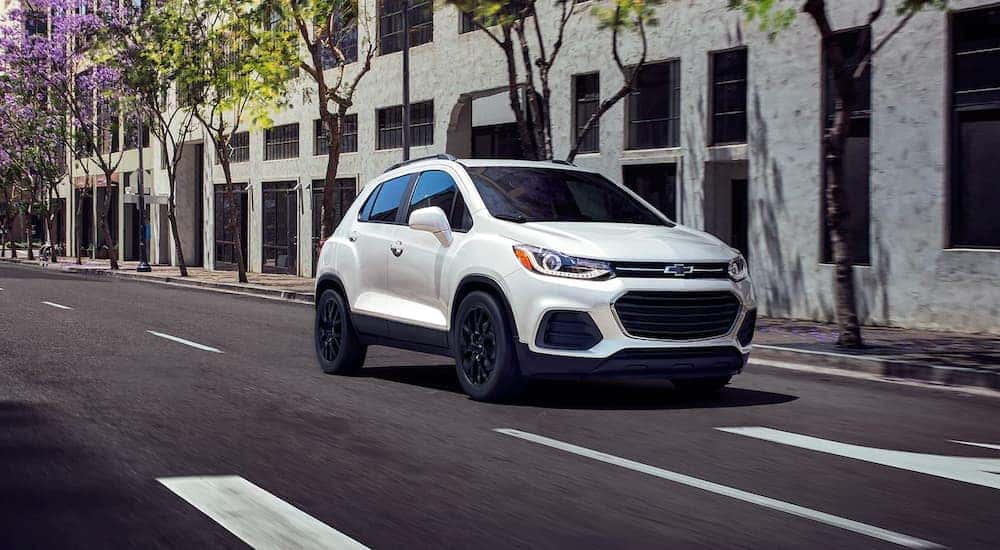 There's no vehicle on the road that's as popular as an SUV these days due to the array of options and sizes available, and one of the most versatile lineups comes from Chevrolet. Whether you need a subcompact commuter or a family-ready hauler, Chevy has an arsenal of SUVs designed to appeal to any driver. If you're searching for a "Chevy dealer near me" and you're wondering who to trust for your next purchase, look no further than Ryan Chevrolet of Minot. We're fully stocked with some of the best SUVs on the market, and if you want to enjoy unmatched performance, stellar ride quality, and exquisite modern design, no other inventory of SUVs will impress you quite like Chevrolet's. So, let's talk about Chevy SUVs and what they will bring to your ride, whether you're seeking out maximum comfort during your commute to work, ample space for your family, or anything else to make your travels better.
Small Size, Big Personality
Many drivers seek out SUVs for the increased space, a larger build, and other features to make the ride more controlled in any road condition; however, not all drivers are seeking supersized options. That's where subcompact and compact SUVs come in to save the day, with their easy-to-handle size, exceptional efficiency, and can-do attitude. The Trax is the smallest member of the Chevy SUV family, but don't be fooled…it can hold its own on the road. This affordable SUV isn't just easy on the eyes; it showcases a refined ride with excellent visibility due to its high seat position and a pleasing experience inside its well-defined cabin. From stitched dashboard inserts to comfortable appointments, the Trax provides the perfect ride for commuters, and with up to 48.4 cu.ft. of cargo space, handling all of your travel gear is simple in this small-scale traveler.
For those seeking out an athletic and capable subcompact SUV, the Trailblazer is a winner, with its sporty handling, bold styling, and spacious interior. With two engines to choose from and all-wheel drive available to tackle the North Dakota winters, the Trailblazer is agile and controlled on any type of road surface. Larger than the Trax, you're able to enjoy enhanced cargo capacity, with 54.4 cu.ft. of space dedicated to whatever is joining you on the ride. An IIHS Top Safety Pick+ for 2022, the Trailblazer showcases exceptional tech designed to heighten the ride and increase safety under any circumstances. Many standard features can be found, including automated emergency braking with pedestrian detection, while available features like adaptive cruise control and an HD Rear Vision Camera are at-the-ready to make you more confident behind the wheel.
Last but certainly not least, wrapping up the compact segment is the fan-favorite Equinox. Ideal for families and frequent travelers alike, the Equinox offers drivers exceptional cabin space, marked by stunning features and an open, airy feel, as well as outstanding handling and loads of modern tech. Designed to amplify any type of ride, the Equinox includes configurable seating to be able to accommodate up to 63.9 cu.ft. of cargo. Its turbocharged four-cylinder allows for a lively ride and undeniable efficiency. Able to get up to 31 MPG on the highway, the Equinox is ideal for commuters, families, and every type of driver who desires an exciting experience on the road.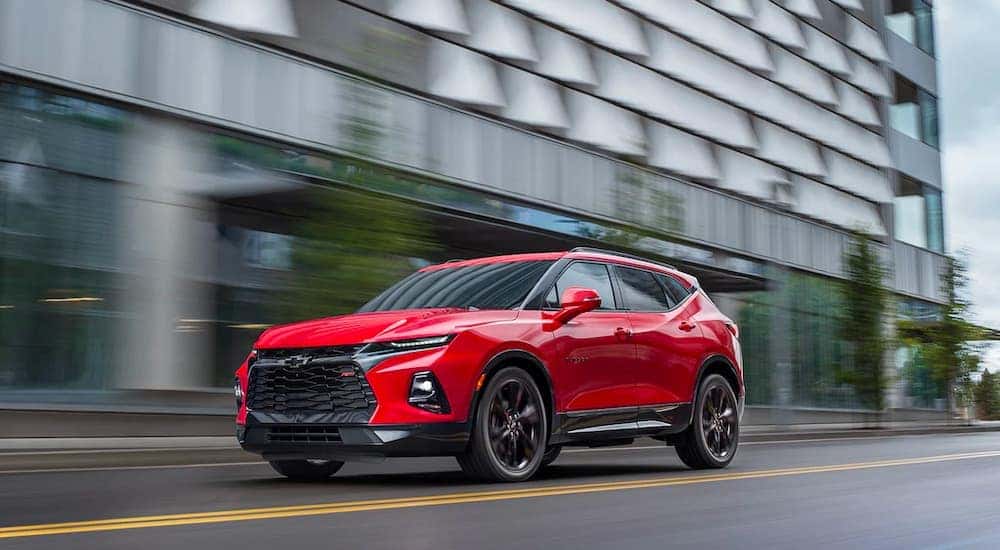 Midsize Marvels
Now for some, compact SUVs are a bit too…well, compact, for their travel needs. You may be thinking of something a bit bigger to accommodate you on your journey, but you're not quite ready for a large and in-charge full-size SUV like the Suburban. Well, you're in luck because Chevy has a lineup of midsize offerings that are among the best in the business. Take the Blazer, for example, accentuated by a style that can't be replicated, with a famous reputation in the industry. The Blazer has held a place in our travels for decades.
The Blazer is one of the oldest models from Chevy, debuting for the first time in the late 1960s. After a brief hiatus, the Blazer returned in 2019, better than ever before. Letting go of its more rugged roots in favor of show-stopping style, the Blazer is a highly desirable model for drivers who need ample space but yearn for alluring style in their vehicle. With Camaro-inspired design elements inside and out, the Blazer is a head-turner, and when you want to enjoy form blended seamlessly with function, this midsize option is exemplary. With a maximum tow rating of 4,500 lbs, the Blazer proves that it's more than able to keep up with your active lifestyle, and with sleek style radiating throughout, it'll look good doing anything it seeks out to do. The Blazer is perfect for drivers who refuse to blend into a crowd, and when you want to feel like you're driving a luxury SUV without the luxury price tag, this SUV will do just that.
Another midsize model that drivers love is the Traverse, with three rows of seating to handle more passengers and plenty of power to deliver an inspiring ride, no matter where the road takes you. Families, in particular, gravitate toward the Traverse due to its favorable size. It's big, but not too big, and it features one of the largest cargo areas in its class, plus an abundance of driver assistance features to make any drive safer. With a best-in-class cargo volume of 98.2 cu.ft. and seating for up to eight, the Traverse is a favorite for those searching for a manageable SUV that can do it all.
Large-Scale Haulers
There are those who need more. This means more space, more power, and more accommodations in order to make their drive the best possible, and that's where the large SUVs come to the rescue. Up first is the Chevy Tahoe, which offers a brilliant interior environment, perfect to fit up to nine passengers, and with three rows of absolute comfort, anyone onboard will enjoy a top-notch experience. Best-in-class cargo volume of 122.9 cu.ft. and a class-leading power-sliding center console allow you to fit just about anything inside, while Magnetic Ride Control makes your journey smooth and refined. Add this to the Tahoe's unparalleled towing capabilities of up to 8,400 lbs, and you've got the ultimate adventurer, family hauler, and all-around exquisite SUV that's ready for anything your travels entail.
We may have saved the best for last…it's Chevy's oldest nameplate and largest offering, and when you need maximum everything, the Suburban will deliver it. Greater cargo volume, able to accommodate up to 144.7 cu.ft. of cargo, as well as seating for up to nine, the Suburban is a family's dream come true. The Suburban showcases more powertrain options than any of its competitors, including an available diesel engine to add even more efficiency to this skilled traveler. Plus, with up to 13 exterior camera views, the Suburban is a leader in its class. With the ability to see clearly all around your vehicle, as well as enjoy some of the top safety features in the industry, the Suburban is a trusted SUV for your precious cargo.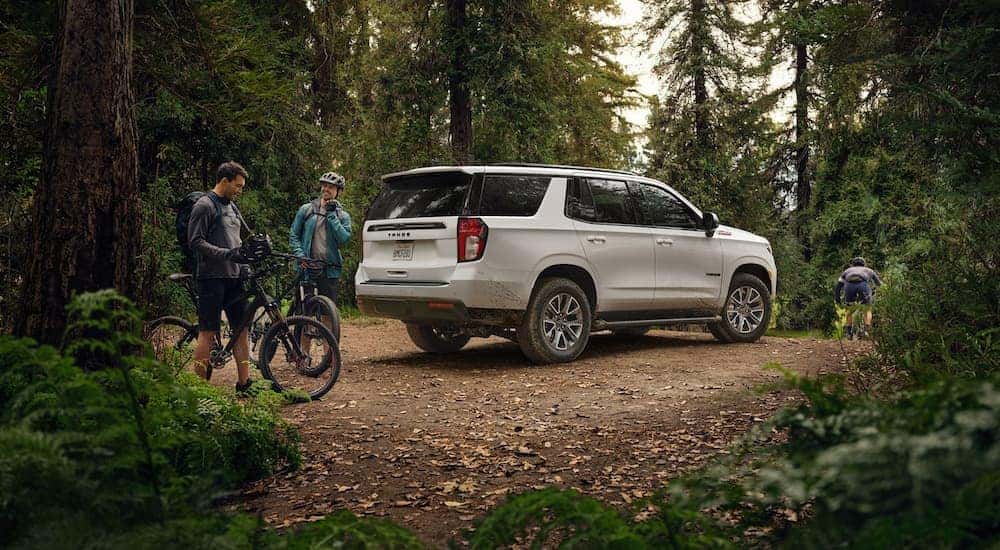 Choosing the Chevy SUV for Your Travels
Whether your daily ride consists of a long commute into Minot or frequent stops to the school and running errands with the kids, there's a Chevy SUV waiting to impress you. There are many different types of drivers embarking on many different types of travels, and Chevrolet is one of the few automakers that perfectly understands the need for versatility. When you want to make the most out of any travel situation, trust in the selection found at Ryan Chevrolet of Minot and experience first-hand what it feels like to truly enjoy the ride. With all the options in the Chevy SUV inventory, you may not be able to pick just one!